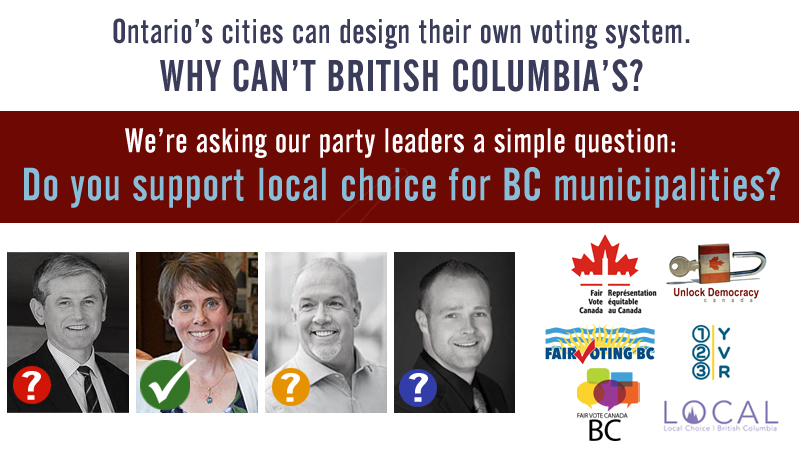 During this BC election, leaders are being asked whether they will provide municipalities the right to self-determination of their voting system. Voting systems are not one-size-fits-all and some leaders understand this. We are calling on all leaders of political parties to allow local governments to choose their own voting system. Who will lead?
Update: October 11, 2020 Sonia Furstenau and the BC Greens endorse providing municipalities with more choice for local governments.
British Columbia's municipal elections often suffer from disengagement and low voter turnout. While cities and towns across North America are using innovative methods to make their local elections more participatory, diverse and fair, our cities and towns in BC are severely restricted by the Local Government Act. This one-size-fits-all legislation does not allow the flexibility to address the needs of our diverse municipalities.
We propose that municipalities be given more choice, allowing them to customise their local elections based on local needs. Each British Columbia municipality is unique and there is no 'one-size-fits-all' solution. Municipal leaders know the electoral restrictions set by Victoria are not in the best interest of strengthening local democratic participation.
We call on the British Columbia government to create enabling legislation that gives more choice to BC's municipalities while also laying down parameters to regulate any moves towards reform. Any reform should be flexible and as unique as your municipality.
No municipality should be forced to change its system and we are not advocating for any specific reform. This legislation would simply provide local Councils with options, enabling them to open the door to local democratic renewal and to choose the system that best fits the unique needs of their community. It could provide new regulations for new tools such as runoff voting, single transferable vote, pre-election contribution disclosure, weekend voting, online voting, or others.
We are seeking City Councillors and Mayors from across British Columbia to endorse our statement. Endorsing the statement does not mean that you endorse any of the options for reform (terms limits, runoffs, etc.). It simply means that you support your Council's right to address the needs of your voters.
See below to add your endorsement. If you have comments or questions, please contact our Project Coordinator, Keith Poore, at
keith@localchoicebc.ca
See who already supports us!
Teresa Patterson - Councillor, Parksville
Denis Walsh - Councillor, Kamloops - "We need more choice and flexible options to strengthen our local democratic election process."
Arjun Singh - Councillor, Kamloops
Zeb King - Councillor, Central Saanich - "I support in principle the idea that Central Saanich can best address the needs of its voters and should be allowed greater flexibility to use electoral systems. That said, I also think Elections BC should maintain oversight in order to ensure fairness in the electoral process. Lastly, I also support spending limits to preserve the ability for anyone to run for local office."
Murray Weisenberger - Councillor, North Saanich
Nora Gambioli - Councillor, West Vancouver
See who has supported us in the past
Mark Rogers - Councillor, Dawson Creek
Owen Dickie - Councillor, District of Lake Country
Craig Speirs - Councillor, Maple Ridge - "Our voting system is from the last century and needs to be brought into this one. I can see many improvements that could be made before the next election."
Mary Gay - Councillor, Montrose
Patricia Heintzman - Mayor, Squamish
Greg Blanchette - Councillor, Tofino - "I have long believed that the first-past-the-post electoral system addresses citizen's needs poorly. Bringing an alternate system in at the municipal level would be an excellent way to foster electoral reform at the provincial and national level."
If you are a Mayor or Councillor in a municipality in BC, endorse Local Choice BC